How to use the ASTM A234 WP9 pipe fittings?
ASTM A234 WP9 pipe fittings are butt welding pipe fittings,includes elbows,tees,reducers and caps etc.They are commonly used to be welded with the ASTM A335 P9 steel pipes,A182 F9 forged pipe fittings and forged flanges.
ASTM A234 WP9 is low content alloy steel material,it have a good performance in high temperature conditions.Grade WP9 have two classes,Class1 and Class3.They have different mechanical properties.It is necessary to choose the correct class when install the piping systems.ASTM A234 WP9 Class 3 have a better yield strength and tensile strength.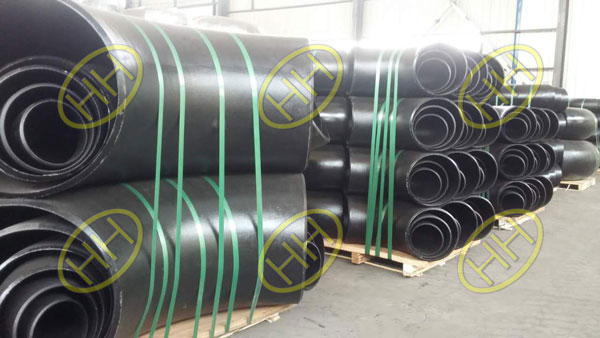 ASTM A234 WP9 Pipe Fittings
The butt welding joint of ASTM A234 WP9 pipe fittings make it have a good strength in the piping system,it is leakproof and strong.
The ASTM A234 WP9 pipe fittings could be used in industry field,like Oil,Gas,Power plant,Water Treatment,Chemical-industry etc.
Hebei Haihao Group has more than 30 years experiences in ASTM A234 WP9 steel pipe fittings manufacturing,we can supply all the range of the fittings of high quality and soon delivery.We also can manufacture other pipe fittings,such as ASTM A234 WP5 pipe fittings,ASTM A182 F51 pipe fittings,ASTM A182 F347H pipe fittings,ASTM A420 WPL6 pipe fittings etc.