Orifice Flange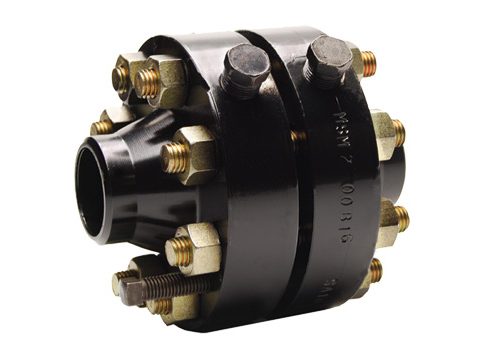 Orifice Flange.
Orifice Flanges are used with orifice meters for the purpose of measuring the flow rate of either liquids or gases in the respective pipeline.  Orifice flanges generally come with either raised faces or RTJ (Ring Type Joint) facings.They are,for all intensive purposes,the same as weld neck and slip-on flanges with extra machining.They have modifications of radial tapped holes in the flange ring for meter connections and orifice plate carriers for the reason of fitting meter connections.The additional bolts act as a jack to allow the separation of the two flanges to change the orifice plate or for other inspection services.(Know more about orifice flange)
Size
Orifice flange:1″-24″
DN25-DN600
Pressure
America Series:Class 150 ,Class 300, Class 600, Class 900A ,Class 1500,Class 2500.
Europe Series:PN2.5,PN6,PN10,PN16,PN25,PN40,PN63,PN100,PN160,PN250,PN320,PN400.
Flange Facing Types
America Series: Flat face(FF),Raised face(RF),Tongue(T),Groove(G),Female(F),Male(M),Ring type joints face(RJ/RTJ)
Europe Series: Type A(Flat Face),Type B(Raised Face),Type C(Tongue),Type D(Groove),Type E(Spigot),Type F(Recess),Type G(O-Ring Spigot),Type H(O-Ring Groove)
Materials
Carbon steel: ASTM A105,ASTM A105N,GB 20,C22.8.
Alloy steel: ASTM/ASME A182 F1-F12-F11-F22- F5-F9- F91
Stainless steel: ASTM/ASME A182 F304-304L-304H-304LN-304N
ASTM/ASME A182 F316-316L-316H-316LN-316N-316Ti
ASTM/ASME A182 F321-321H, F347-347H
Low temperature steel: ASTM/ASME A350 LF2.
High performance steel: ASTM/ASME A694 F42 , F52, F56, F60, F65, F70
Standards
ASME ANSI B16.36.
API 605,API 6L.
MSS SP 44
CSA Z245.12
EN1092-1,EN1759-1.
DIN2630,DIN2631,DIN2632,DIN2633,DIN2634,DIN2635,DIN2636,DIN2637,DIN2638.
BS1560,BS 4504,BS 10.
AFNOR NF E29-200-1
ISO7005-1
AS2129
JIS B2220
UNI 2276. UNI 2277.UNI 2278 .UNI 6089 .UNI 6090
Industrial Processes
Die forging,Machining.
Application for Orifice flanges
Natural gas,chemical,petroleum,ship building,marine,paper making,metallurgy,electric,power,boiler etc.
Hebei Haihao Group,as a first class manufacturer of orifice flanges in China,supplys a variety of steel flanges to satisfy our customers' specifica requirements,which include different size,different schedule,different pressure and different finish faces.Our products are produced strictly according to the required standard.Our raw material for orifice flanges all are purchased from big steel companies which can make sure the material in a high quality.